A good breakfast is probably the most important meal of the day as it provides the required energy to start your day out right, and makes you less likely to overindulge at lunch or dinner. Is it not convenient to eat a decent meal early in the day, and then to relax with the competition about food for the rest of the day…?
As a guest you can choose from a daily, small menu to your liking, whether you prefer egg dishes your way, or other healthy breakfast varieties. Menu selections may include items such as:
Breakfast tortillas, Eggs Benedict with ham or smoked salmon, coated with fresh Sauce Hollandaise, or your basic scrambled eggs with toast and marmalade, or French toast with Canadian Maple Syrup.
Comfort food of hot oatmeal, brown sugar and cinnamon, or even lighter home made Granola with nuts, seeds and fruits.
Continental breakfast items like the B&B special of raspberry pecan muffins, fruit and cheese, or buttered croissants with berry yoghurt and fruits, or the traditional bagels with cream cheese and fruit.
Breakfast to go if you have to leave very early.
Should you require a special needs breakfast, please inform us when you book. .
Bagels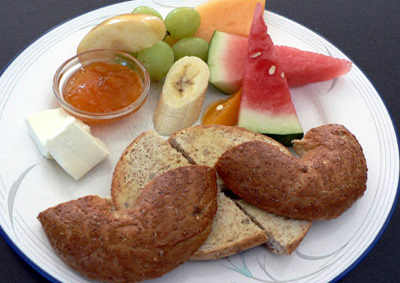 Multigrain Cereal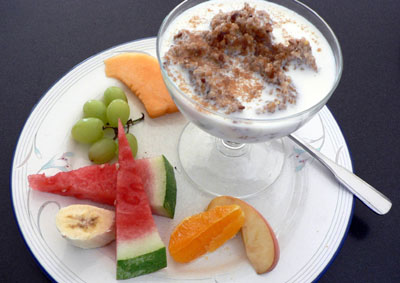 Salmon Benedict